By: Joe Friar | January 16, 2020 | 6:35 AM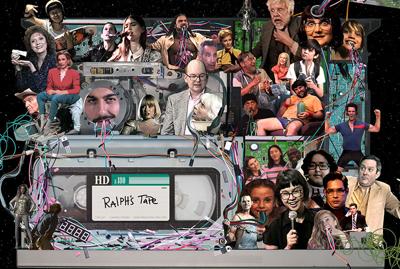 Long before streaming and iPhones, VHS tapes were the medium of choice when it came to watching movies, recording television shows and capturing special moments with a camcorder.
The new comedy from writer/director Jack Henry Robbins harks back to an era long gone as 12-year-old Ralph (Mason McNulty) receives a camcorder for Christmas in 1987.
He begins filming exploits with best friend Josh (Rahm Braslaw) and late-night television shows that include hilarious parodies of the Bob Ross painting show, HSN and softcore films, which became a staple on Cinemax after hours.
The grainy film was shot on VHS tape and, unfortunately, there's no way to adjust the tracking (if you know what that means you're probably as old as me). The time stamp on the corner of the screen indicates that it's Dec. 25, 1987, as 12-year-old Ralph begins to play around with his new Christmas gift – a camcorder. Together with best friend Josh, the duo begins recording anything and everything not realizing they're recording over the wedding tape of Ralph's parents.

The film's best moments are the snippets of television shows recorded by Ralph as he constantly flips channels – proving the attention span of kids hasn't changed throughout the last 30 years.
There are parodies of the Home Shopping Network as divorced co-hosts attempt to sell products while airing out their dirty laundry, a Bob Ross-type show called "The Joy of Painting" with a creepy host named Joan (Kerri Kenney) who is seen painting mountains with a self-portrait that includes her engaged in a sexual act with former NBA star Dennis Rodman.
There's also a version of "Antiques Roadshow" with an inept host who gets a surprise visit from his former childhood bully.
Some of the funniest moments are the recreated late-night R-rated adult films that ran on Cinemax, which led to the channel's nickname "Skinemax." Ridiculous scenarios including a film titled "Sexy Swedish Illegal Aliens From Space: XXX" in which three women in space suits do the grownup with earthlings and fix machinery including farm equipment.
"VHYes" includes cameos from actors that include Tim Robbins and Susan Sarandon as the offbeat film shadows the sketch comedy series "Tim and Eric Awesome Show" and just about everything on Adult Swim. I'll be honest, I haven't laughed this hard in a very long time.
If you're a fan of the adult-oriented nighttime programming that inhabits the airwaves on Cartoon Network after the kids are in bed, get nostalgic and check out this funny film.
There is a nice horror twist that pays homage to those found-footage films that gives this film a nice edge, and it generates real scares – followed by hardy laughs.
VHYES (2020)
Three stars out of four
Kerri Kenney, Thomas Lennon, Mason McNulty, Charlyne Yi, John Gemberling, Tim Robbins, Bridey Elliott, Mark Proksch, Rahm Braslaw, Genevieve Morton, Raymond Lee, Paige Elkington, Susan Sarandon, Madeline Zima
Directed by Jack Henry Robbins
Opens Friday at Alamo Drafthouse locations in Houston, Austin and San Antonio.