BY SARAH WARD, 3 SEPTEMBER 2019
Inside the Californian penal system with Tim Robbins' The Actors Gang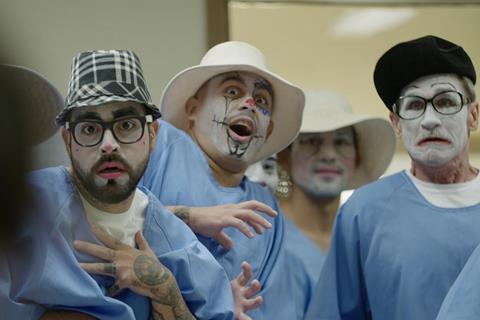 SOURCE: ASAC/LA BIENNALE DI VENEZIA
'45 SECONDS OF LAUGHTER'
Dir. Tim Robbins. US. 2019. 95 mins.
Returning to the U.S. prison system two decades after starring in The Shawshank Redemption and directing Dead Man Walking, Tim Robbins wrings genuine emotion out of easy insights in 45 Seconds of Laughter, an intimate documentary which steps inside a series of acting workshops in a maximum-security Californian facility. Given that the rehabilitative program is run by his own experimental theatre troupe, Robbins' first stint as a factual director is guilty of doubling as an advertisement; however, just as the film's inmates find inner freedom despite their status, so too does this affecting feature.
Letting convicted men reveal their emotions in a safe space may not be a revolutionary idea, but it clearly feels that way to those forever altered by the process
Bowing at Venice, 45 Seconds of Laughter instantly recalls Caesar Must Die. While it is unlikely to achieve the same success as the Taviani brothers' 2012 Golden Bear winner, this is still an engaging portrait of men visibly changed by their creative experiences, and using performative exercises to interrogate the roles they inhabit behind bars. After screening on the Lido and then in New York, further festival play is likely — although, with its message about treating prisoners like people, and championing a project already known to reduce recidivism rates, streaming may be the best path to a wider audience.
45 Seconds of Laughter properly kicks into gear with a sight that becomes as common as its string-heavy soundtrack: the expressive faces of Calipatria State Prison detainees in the thick of their Prison Project sessions, as led by The Actors' Gang members including Sabra Williams, ex-con and proud workshop graduate Chris Bisbano, and, occasionally, Robbins himself.
Initially looking defensive, then loosening up as they're guided through bonding exercises, these incarcerated faces tell much of the story. Adopting The Actors' Gang's in-class approach, Robbins does not dwell on the attendees' crimes or sentences (only via end-credit titles does the documentary establish what sentences they are serving.) Instead, via probing yet unobtrusive camerawork, he hones in on the time they spend together, playing games where they mirror each other's actions, convey distinctive emotions, and take on stock characters from the Commedia dell'Arte. As the movie's title notes, they end each session with prolonged and hearty laughter.
Watching the quiet transformation of these inmates proves moving and fascinating, as does witnessing their evolution from adversaries into an ensemble. Voiceover adds context to the broader situation, such as the gang and racial segregations that exist outside the classroom but are shed once lessons start. Of course, that participants behave differently in the workshops compared to the yard would be obvious even without an overt explanation. The same can be said of Robbins' choice to share select prisoners' thoughts as a soundtrack to group scenes without visually identifying each source, leading to an obligatory grand finale which reveals the elated reaction of their loved ones.
Still, you can't argue with the documentary's effectiveness. While 45 Seconds of Laughter fashions its observational snapshot of creativity and cathartic release from familiar parts — including an empathetic end quote from Dead Man Walking's subject Sister Helen Prejean — the film works as it should. Robbins mimics the program his troupe has been running since 2006; letting these convicted men reveal their emotions in a safe space may not be a revolutionary idea, but it clearly feels that way to those forever altered by the process.
Production company: Havoc Docs
International sales: ICM Partners, [email protected]
Producers: Allison Hebble, David Diliberto, Tim Robbins
Cinematography: Josh Salzman
Editing: Neil Stelzner
Music: Dave Robbins
Featuring: Sabra Williams, Chris Bisbano, Tim Robbins