From One 'Here And Now' To Another: Tim Robbins On New HBO Show, Theater And Trump
11:01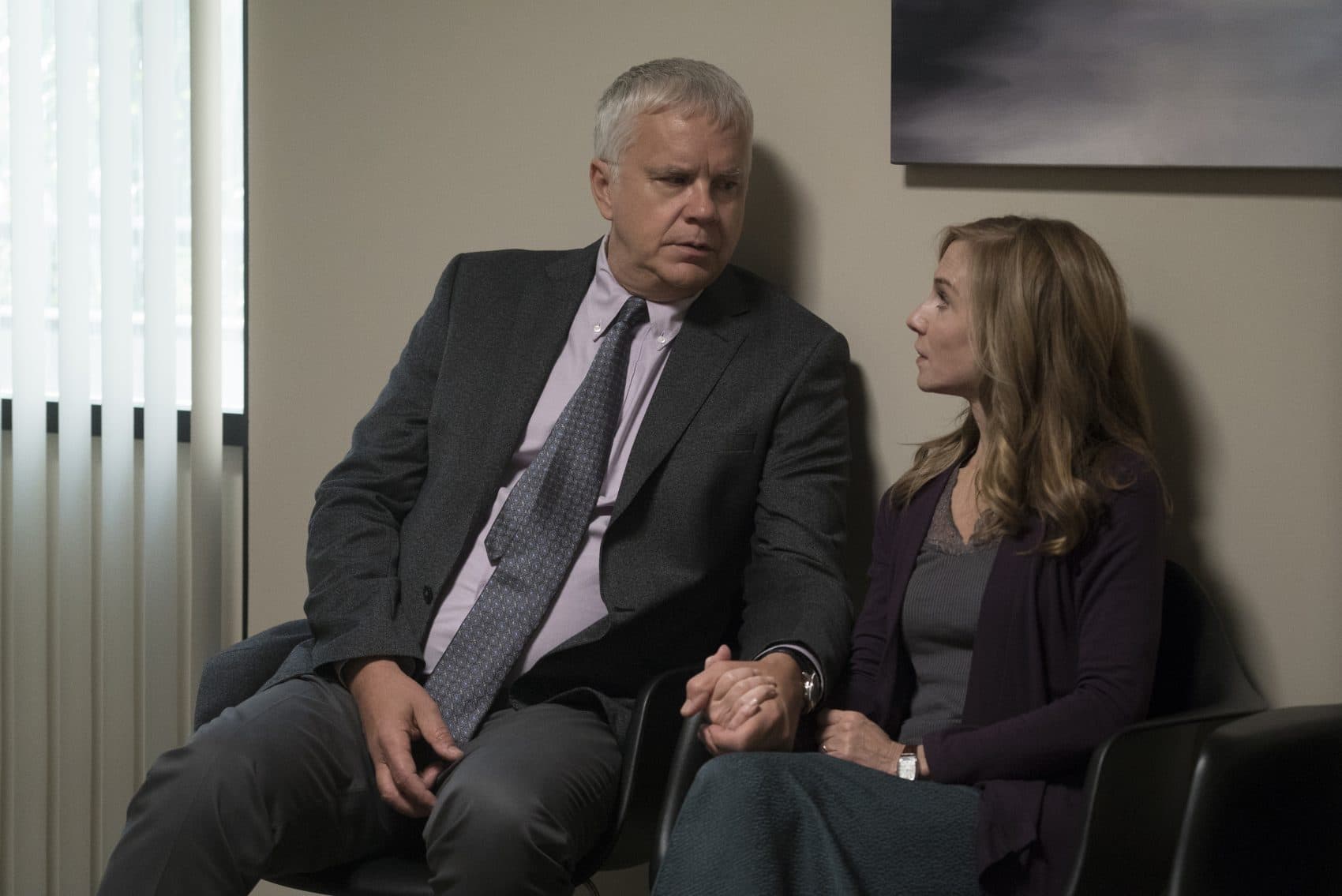 Actor and director Tim Robbins stars in HBO's "Here and Now" (a great name, if you ask us) which premieres Sunday.
Robbins (@TimRobbins1) talks with Here & Now's Jeremy Hobson about the show and his work with The Actors' Gang, the theater company he helped found.
Interview Highlights
On what "Here and Now" is about
"It's about a family in Oregon that has challenges in front of it for many reasons. My character is kind of falling apart, having one of those midlife crises that is so prevalent among males my age. But it's also about what it is to be in America right now, what it is to be a multicultural family and the challenges that are faced in Trump America."
On what it's like to play a character that is in a bad mood
"It's challenging, particularly when you're in such a happy state that I've been in recently. But there's a darkness in this character that I thought was really important to embrace to try to tell this story. Acting is fun. At the end of the day you get to turn it off and go on with your life. I would say it's challenging, but I would say compared to other jobs it's not so challenging."
On what he did to prepare for the role
"I did a lot of reading in philosophy, I play a philosophy professor. I tried to infuse a personal philosophy to his own philosophy. But other than that it was really just such a joy to be able to be working with Alan Ball, who is such a creative and groundbreaking artist. Someone that really speaks to the here and now in a unique way, in a way that tells us all a story about what it is to be living right now in this world, in this environment."
"We try to present theater that talks to now, brings up questions that are essential to our community."

Tim Robbins on The Actors' Gang
"There's been a rise in white supremacy, and hate crimes, and empowerment of something that has been closeted for many years. I think Trump has been less graceful at hiding some of the racist agenda that has been perpetuated for years by the right. And so, in a way, it's exposing things that had been cleverly disguised before."
On his life under President Trump
"How's it going for me? Well, it's going OK for me. I try not to wake up everyday in the spirit of hatred and opposition. I think that that's something that is super dangerous for all of us. I try not to wake up, look at my phone and get into the negative right away in my day. I think there's a lot of things we can do to fight this that are productive and positive things. And I think that's the biggest challenge right now for all of us."
On The Actors' Gang
"The Actor's Gang was started out of UCLA 36 years ago. It's a professional theater company in Los Angeles, we've toured all over the world. We've played in five continents and in over 40 states. We try to present theater that talks to now, brings up questions that are essential to our community. We have programs in 12 prisons on 13 yards. What we do is we go into the prison and we teach the incarcerated men and women about this form of theater called "commedia dell'arte," which gives them stock characters to play — the old rich man, his servant, the harlequino, the two young lovers that want to get married but are being forbidden from being married — this story has been told for forever, and it's told in every culture. And what, in fact, it does is it winds up making them understand over the course of the training that they have control over their emotions and a choice when it comes to obstacles that are in front of them. We have a 10.6 [percent] recidivism rate for the people that have been through the program, and a 89 percent reduction in in-prison violations."
On The Actors' Gang's new play, "The New Colossus"
"A couple years ago we were noticing the reluctance of the United States in opening its doors to Syrian refugees, and throughout the campaign we were alarmed by the rhetoric that was being said from Mr. Trump. And we started asking the question, internally, at The Actors' Gang, 'Where are we from? Who are we? What is this country that we live in?' And I asked all of the actors to tell all of their stories of immigration, or their families' stories of immigration. And so we looked at the world around us and we decided that this was the way that we could most effectively raise the issue of what immigration is all about. It's been demonized, it's been made to seem like some kind of anomaly for America, but it isn't at all. It is what created us. In fact, the strength and character of someone that leaves the place they love in order to find freedom somewhere else, and survive that journey, is, in a lot of ways, what defines us as Americans."
On whether he has a preference among TV, theater and film
"I like doing it all, actually. For me, it's, The Actors' Gang, has also been a respite, an oasis from the business that they call show. It's a way to remind myself that there's a lot to be learned. It's a way to experiment with new forms, create new pieces of work with a company of like-minded actors that are trained in a similar way. I feel it's such a great blessing that I've had throughout my career to be able to go back to my laboratory at The Actors' Gang and create new works and not have to ask the permission of a studio to do it. I would rather be in a situation where I'm continuing to create, both in acting and directing, and continue to test the boundaries of what my knowledge is and what my expertise is."
This segment aired on February 7, 2018.