Wednesday Sep 18, 2019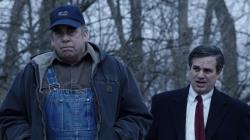 Bill Camp, left, and Mark Ruffalo, right, in the trailer for "Dark Waters." (Source:YouTube Still)
Out filmmaker Todd Haynes is back with a new movie, the "Erin Brockovich"-ish thriller "Dark Waters," starring Mark Ruffalo and Anne Hathaway, which got its first trailer.

Inspired by a true story, the film follows Robert Bilott (Ruffalo), a corporate defense attorney who "takes on an environmental lawsuit against a chemical company that exposes a lengthy history of pollution." The uncovering of "a dark secret…connects a growing number of unexplained deaths due to one of the world's largest corporations. In the process, he risks everything — his future, his family, and his own life – to expose the truth."

Opening on Nov. 22, "Dark Waters" also stars Tim Robbins, Bill Camp, Victor Garber, Bill Pullman, William Jackson, and Mare Winningham.